I am not a supporter of buying clothes in huge quantities. As someone who deals with Feng Shui, I know how important it is not to bury your closet and space. I used to shop just to be happy at that moment. Later, I realized that I am happier when I spend money rationally. That's why I like good pieces, quality ones, which I can easily combine with everything. Classics never go out of style. And if you are imaginative, you can combine the same pieces of clothing in many different ways. I love blazers. They are the definition of timeless fashion. You will always look perfect in them, and a big thank you to the fashion scene that keeps them at the top of the trends. These are pieces that you will easily fit into everything. Let's start with the description.
Classic Black Blazer
Black is always popular. It's a classic you can wear to any event. This is also a cut that does not go out of fashion. If you need a good blazer for work and office, this is the perfect choice. Also, if we are talking about savings, this is a piece of clothing that goes perfectly for more festive events. You can wear a blazer like this over any dress. I can't imagine there being a woman who doesn't have a black blazer in her closet. Always opt for quality and a classic model, because I am sure you will wear it for years.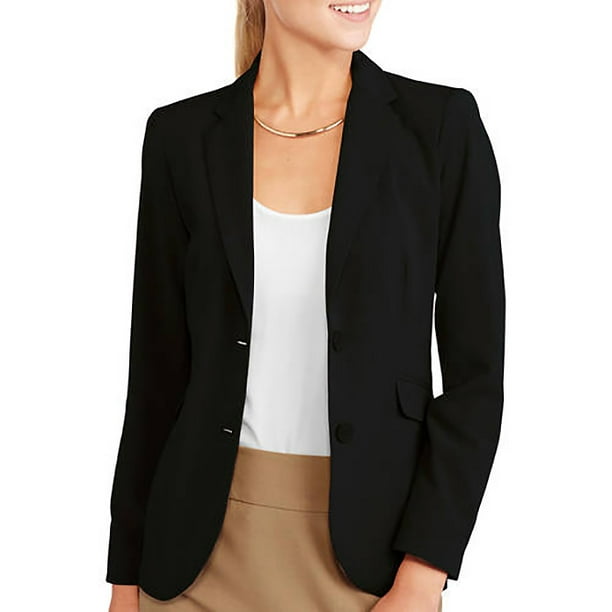 Linen Blazer
As I get older, I pay more and more attention to the materials. Especially during the summer. I appreciate my skin and I want to afford natural materials. I am so sure that my skin will not react to allergies. Linen is at the top of quality materials. If you are in a dilemma, in my opinion he is the best choice for hot summer days. You will surely feel pleasant and comfortable in it. This is a blazer that is perfect for spring and summer, and I recommend it in a beige color. It is a color that fits perfectly and easily with everything. Whether you want to wear a dress or jeans that day.
Double breasted blazer
This model and cut are among my favorites. I remember my mother's models from the nineties. They got lost in fashion for a while, and then came back again. What is popular besides blazers are dresses like this. I mentioned in previous proposals classic colors like black and beige. So now I have decided on something different. Pastel blue color that has been a hit for years. This blazer easily fits with many colors and combinations. It's simple, without too much detail. A good choice is this model in pale pink.
Tweed Blazer
Tweed is always present in the wardrobe of trendsetters. It looks very expensive and luxurious. You don't have to spend a lot of money, Zara always has perfect tweed models. I love suits like the pictures below. But this blazer looks equally good in other black or white combinations. I often wear jeans, a plain white T-shirt and a blazer like this. Comfortable, and very chic. If you want to be someone to turn to, one tweed blazer is a must in your closet.
Oversized Blazer
We have also reached a big trend. Oversized clothing is an absolute must have. It gives the impression of relaxation and comfort, and at the same time it is a big fashion hit that we need to say goodbye to. I would also suggest this model of blazer in a classic color, because it is a piece for all times. Gray is a great choice. Although this model often seems strictly business, it is not the only one. Believe me, you can wear it in many relaxed combinations, do you like it?
Lime blazer
I wouldn't be me, not to mention some crazy color. As it is currently summer, there is a positive mood that affects me like this. I like to stand out from the crowd, and bring some models that need courage. If you don't like this color, I also suggest yellow, royal blue or pink. Definitely one blazer like this is a must have. Prepare for the fact that everyone will turn to you. But that's what we want, isn't it? There are a huge number of combinations that you can make with this piece of clothing. I leave it to you to decide how creative you will be.
Do you like my choice? Which of the blazers shown would you buy first? Are you more for classic or crazy colors? I tried to present a choice in which everyone can find themselves.