Are you looking to add a touch of sophistication to your casual outfits? Perhaps you want to exude confidence while maintaining a feminine charm. Look no further than the versatile and timeless casual blazer. A blazer can effortlessly elevate your look and add a polished touch to even the most laid-back ensembles. In this article, we present to you seven casual blazers that are perfect for achieving a feminine and chic aesthetic.
The Classic Black Blazer
Every wardrobe deserves a classic black blazer. This timeless piece can be paired with almost anything, from jeans to dresses, instantly adding a touch of elegance. Opt for a fitted silhouette to accentuate your feminine figure and choose a fabric with a hint of stretch for maximum comfort. With its sleek and sophisticated appeal, the classic black blazer is a must-have staple for any fashion-conscious woman.
If you're looking to embrace a softer, more romantic style, a pastel blazer is an excellent choice. Think delicate shades like blush pink, baby blue, or mint green. These soft hues can beautifully complement floral dresses, skirts, or even jeans and a simple white tee. The pastel blazer adds a feminine and whimsical touch to your outfit while maintaining a casual and relaxed vibe.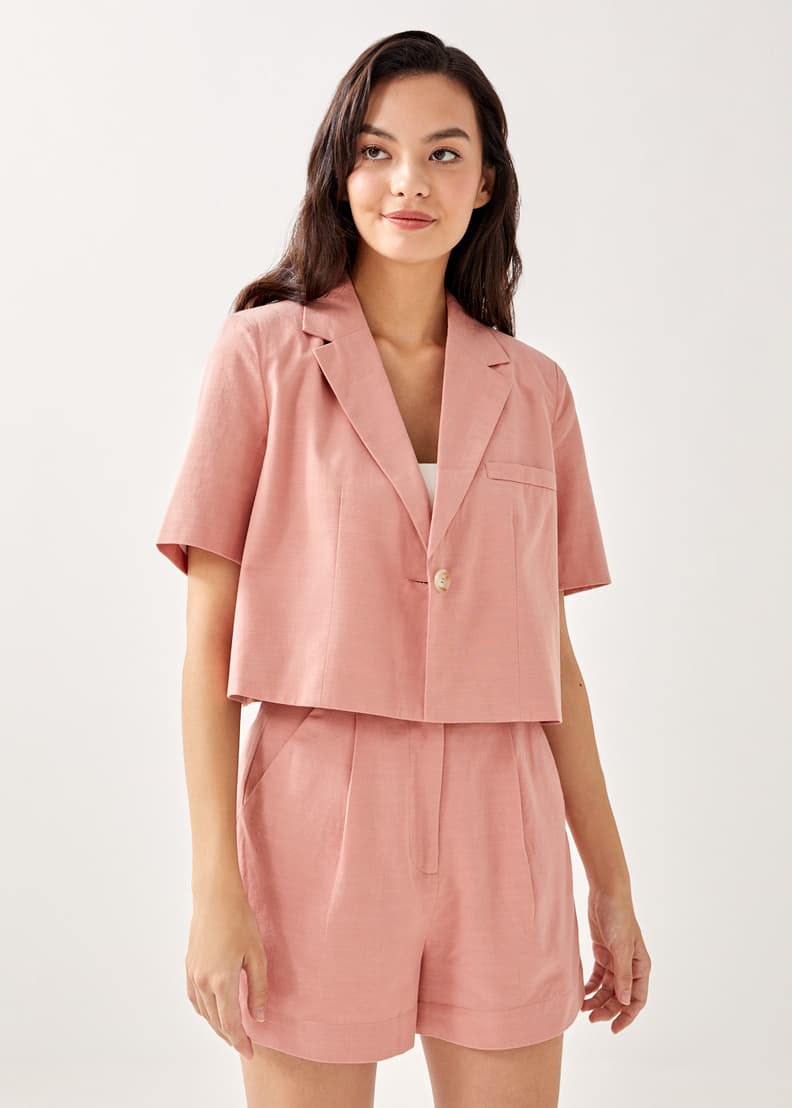 Emerson Shoulder Padded Tailored Blazer
For a chic and preppy look, consider a blazer with nautical stripes. This timeless pattern instantly evokes a sense of elegance and sophistication. Whether you opt for navy and white or black and white stripes, this blazer pairs wonderfully with white jeans or a crisp button-down shirt. This style gives a chic and androgynous vibe. It`s a versatile and sexy style you can easily pull off. Add a pair of boat shoes or ballet flats to complete the maritime-inspired ensemble.
Nothing says femininity quite like a floral blazer. Choose a blazer adorned with a delicate floral pattern, and you'll effortlessly infuse your outfit with a touch of whimsy charm. Pair it with solid-colored pieces to let the blazer take center stage. Whether you wear it with a flirty dress or a tailored pair of trousers, the floral blazer will make you feel like a blossoming garden.
Floral blazers also give a stylish impression with their statement look. Choose a floral piece that will represent your feminine side. You can pair it with basic clothing so that the eyes are drawn to the floral pattern.
Surrounding cut-out linen-blend blazer
For a more relaxed and casual look, a linen blazer is an excellent choice. Linen offers a lightweight and breathable feel, perfect for those warmer days. Opt for neutral tones like beige or light gray for a versatile piece that can be styled with a range of outfits. This blazer adds a laid-back and effortless touch to your feminine ensembles.
AVERY OVERSIZED METALLIC BLAZER – ELECTRIC
If you're in the mood to make a bold statement, a metallic blazer is just what you need. Choose one in silver, gold, or rose gold to add a touch of glamour to your casual outfits.
If you`ve never tried metallic pieces before, you`re missing out! An easy way to elevate your look is by wearing a metallic blazer that can have a striking impression. Pair it with jeans and a basic tee for a trendy yet feminine look, or layer it over a little black dress for a night out on the town. The metallic blazer is the epitome of modern femininity with a hint of edginess.
Plus Size Printed Open-Front 3/4-Sleeve Blazer
For those who dare to be different, a blazer with an eye-catching pattern can be a game-changer. Whether it's geometric prints, polka dots, or animal prints, a patterned blazer adds a unique and fashion-forward touch to your feminine look. Geometric patterns are perfect for those who are minimalist but want to have some exciting patterns. This style gives a structured and well-polished look. Keep the rest of your outfit simple and let the blazer be the focal point. Embrace your adventurous side and let your style shine.
A casual blazer is a versatile and essential piece that can effortlessly transform your outfits into feminine and chic ensembles. Whether you opt for the classic black blazer, the pastel delight, or the metallic glam, there is a blazer for every style and occasion. Wearing blazers is one of the easiest ways to style basic clothing. If you`re going somewhere more dressy, a statement blazer can do the trick in upgrading your outfit.