Fans of Sex And The City are so looking forward to its revival called And Just Like That. The new series has began filming in New York City. Yes, the best friends, Carrie, Miranda and Charlotte are back in action and wearing some very on-brand and trendy outfits for each of their characters. Unfortunately, Samantha (Kim Catrall) will not be part of the new spin-off. We will definitely miss her sassy outfits and witty one-liners.
The original series first premiered twenty three years ago and it was groundbreaking in its portrayal of the life of a fashionable 30 something single woman staying Manhattan. This was the show that solely secured the Fendi Baguette's as society's first It bag.
Thanks to paparazzi photos, fans have been getting the first look at what these women are wearing in the show. Needless to say, shoe-obsessed fashion crazy Carrie Bradshaw is wearing some statement sky-high platform heels with her flouncy skirt and T-shirt. In the meantime, Miranda is all business in blazers and wide-leg pants, while Charlotte is looking every bit of uptown in off-the-shoulder blouse and Dior heels.
Some signature styling pieces are still present like Carrie's love for corsages and there is more bohemian vibe to Carrie's ensembles this time, with hippy braids, clashing prints, flowing fabrics and quirky cottagecore style accessories. Scroll down to see photos and outfits from the Sex and the City reboot.
Carrie wears a pink Carolina Herrera shirtdress and black pumps. The wide studded black leather belt is a recycled piece which she had wore in the 2008 Sex and The City movie.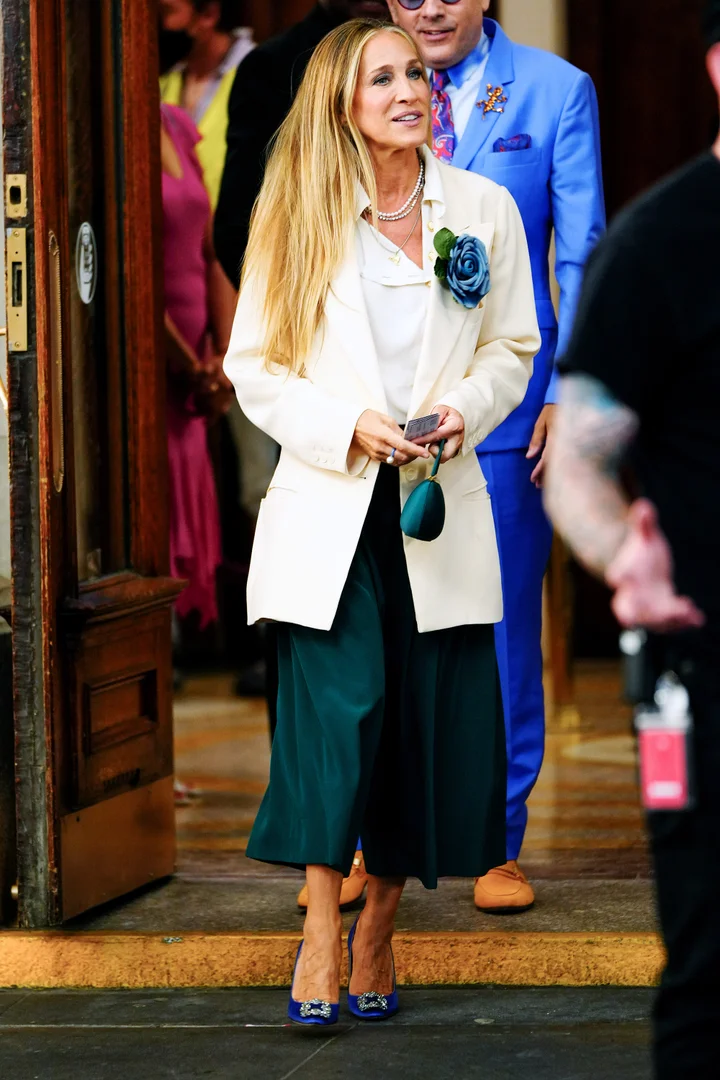 Carrie Bradshaw wearing her famed flower pin 21 years after it made its appearance in the series' third season. For this reboot, she wore a long, ivory blazer with the oversized Chanel rose pin, a green midi length skirt and blue Manolo Blahniks.
It has been more than 15 years since we saw Carrie with her purple sequin Fendi baguette. Throughout Sex And The City, the Baguette became a staple of Carrie Bradshaw's wardrobe. In And Just Like That, she paired the bag with a printed dress, ivory cardigan, layered necklaces and Saint Lauren shoes for the party look. As the world begins to open up, a fresh injection of outfit ideas is more than welcome.
One of the most dazzling ensemble in this reboot series is this ankle-grazing XXL giant polka dot-adorned Carolina Herrera skirt, which Bradshaw wore with a black bodysuit, a pair of Duchessa Gardini pumps and a handpainted Rebecca Moses bag. Want to read more fashion articles? Here it is https://www.bitittan.com/