Floral dresses are very popular among the girls in the summer season. You can rock these dresses by simple fashion tricks and tips. There are many floral dresses that are flowy and have great volume. This makes the dress look beautiful but it can sometimes make your curves disappear. Dresses that are having loose-fitting should be worn along with the waist belts to give perfect structure. You can choose a designer waist belt with having a broader width. You can also go for the metal buckles in your waist belts to get the expensive look.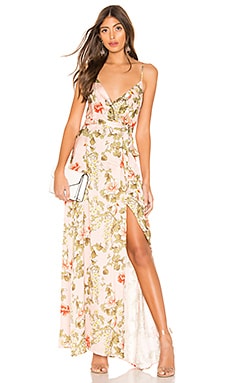 Denim can make any dresses pop out and give it a perfect casual look. You can overcoat your floral dress with the denim jacket and pair it with the ankle boots or your favorite heels. Choose the mini floral dresses with the denim as they look more girly and cute. You can choose distressed denim jackets to get the trending look instantly. Go with the brighter colors in these dresses to get the popping look in the summer season.
There are various designs and patterns that you can choose in your floral dresses. These designs are easily available on various online stores at very cheap rate. Choose the floral dress with the leg split cutout in it. This enhances the entire look of the dress and makes it more chic and beautiful. The split on the dress can vary in length. You can select the desired length in your split. Go for the lighter colors while selecting the split dresses as they look more expensive and give you a better look in summer and spring.
Ruffles are a great way to get the trending look. If you are plus size women you can go with the ruffle dresses as it gives you a slim and structured look. Many girls also go for off-shoulder ruffled dresses for the summer season. You can also choose high volume ruffles in your sleeves to get the balanced look. Pair these dresses with the pumps and simple neckpieces. Many girls also go for the ruffle detailing at the bottom of their dresses for the royal look.
Accessories are a great way to enhance any simple look instantly. You can go with a simple neckpiece or multilayered neck chains with the floral dresses to make the entire look more appealing. Hoop earrings are very popular among girls nowadays. You can choose various designs in these hoops to get the finished look.