A vintage clothing wardrobe is a collection of clothing items that are considered to be vintage or retro. Vintage clothing refers to clothing that was made in a previous era, typically from the 1920s to the 1980s. These clothes are often considered to be timeless and have a certain charm that cannot be replicated by modern clothing.
One of the benefits of building a vintage clothing wardrobe is the ability to find unique pieces that you won't find in modern clothing stores. Look for items such as vintage dresses, skirts, blouses, and accessories that have a unique style and character. These pieces can add a touch of vintage charm to your wardrobe and help you stand out from the crowd.
Here are some tips to help you with building your own vintage wardrobe.
Building a sustainable wardrobe has become a hot topic in recent years, and for good reason. The fashion industry is one of the biggest contributors to global pollution, and as consumers, we have the power to make a change. One way to build a sustainable wardrobe is by incorporating vintage clothing into your closet. Not only is it eco-friendly, but it's also a great way to add unique and timeless pieces to your wardrobe. In this article, we'll go over some tips on how to build a sustainable vintage wardrobe.
Start with Shopping Second-Hand garments.
The first step to building a sustainable vintage wardrobe is to shop secondhand. This can include thrift stores, consignment shops, vintage shops, and online marketplaces. By shopping secondhand, you're preventing clothes from going to landfills and reducing demand for new clothes to be produced. It's also a great way to find unique pieces that you won't find in fast fashion stores.
When shopping secondhand, it's important to take your time and look for pieces that are in good condition. Check for any stains, holes, or tears, and make sure the fabric is still in good shape. Also, don't be afraid to try on clothes and make sure they fit properly.
Invest only In good Quality outfits.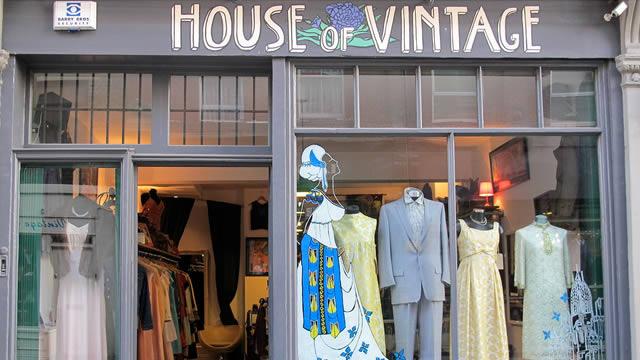 When building a vintage wardrobe, it's important to invest in quality pieces that will last for years. Look for clothes made from natural fibers such as cotton, silk, or wool, as they are more durable than synthetic fabrics. Check the garment's label for care instructions, as this will give you an idea of how well-made the piece is.
Investing in quality doesn't mean you have to break the bank, either. You can find high-quality vintage clothes at affordable prices if you're willing to do some digging.
The best you can do with your vintage clothes -Mix and Match
One of the benefits of building a vintage wardrobe is the ability to mix and match pieces from different eras. You can create unique and modern looks by combining vintage pieces with modern ones. For example, you can pair a vintage blouse with a pair of jeans and sneakers for a casual look, or dress up a vintage dress with modern accessories.
Mixing and matching also means you'll get more wear out of your vintage clothes. By incorporating them into your everyday wardrobe, you're ensuring that they don't sit in your closet collecting dust.
Consider Alterations And visiting a tailor.
If you find a vintage piece that doesn't fit quite right, don't be afraid to have it altered. A skilled tailor can make alterations to a garment to ensure that it fits your body properly. This can make all the difference in how often you wear a piece.
When considering alterations, it's important to make sure the garment is worth it. If it's a rare or valuable piece, it may be worth investing in alterations to ensure it fits properly. However, if it's a common piece that can be easily found in different sizes, it may not be worth the investment.
Taking proper care of your clothes.
Properly caring for your vintage clothes is essential in ensuring that they last for years. Follow the care instructions on the label and avoid using harsh chemicals or bleach. When storing your clothes, make sure they are in a cool, dry place to avoid damage from moisture or insects.
It's also a good idea to invest in high-quality hangers and storage solutions to ensure that your clothes stay in good shape. Avoid storing clothes in plastic bags, as this can trap moisture and lead to mold or mildew.
Conclusion
In conclusion, building a sustainable vintage wardrobe is a great way to reduce your environmental impact and add unique pieces to your wardrobe. By shopping secondhand, investing in quality, mixing and matching, considering alterations, and caring for your clothes, you can create a sustainable wardrobe that's both stylish and eco-friendly. Remember, building a wardrobe.