Are you planning your wedding soon? Besides other huge plans you need to make, you definitely need to focus on your look. Some people may say that bridal heels aren't that important because they usually can't be seen under the dress which goes all the way to the floor. But, we don't agree with that! Heels make women feel powerful, beautiful and definitely more ready for any event they need to be a part of.
Therefore, bridal high heels are a really important factor of bride's look. Also, on the photos which you take as a part of your wedding day, heels can make such a beautiful detail and some romantic photos can be taken which feature heels.
Women love heels and that's for a reason. Heels are beautiful, heels symbolize femininity and they make women feel good about themselves. Confidence is triggered by heels and by the powerful feelings women get when they wear them.
Now, you may be wondering how can you choose or find perfect bridal high heels. There are definitely some tips you can use while shopping for bridal high heels to make this process easy and stress-free for you.
If you are deciding on whether you should shop in person or online, when it comes to shoes – better would be shopping in person. But, if the stores are closed due to the current situation caused by the pandemic, you can always order from shops that accept returns. In that way, you will feel safe that you won't be spending your money for something that you won't eventually wear or use.
Sizes are so important and they often depend on the shoe model. Because of that, be sure to try out the shoes and try walking in them in store before buying them. If you feel any kind of a pressure, anywhere in your feet, you should leave those shoes and search for the next ones. You definitely don't want to feel the pain in your feet on your most important and most special day in your life. That day is something you want to remember by all the nice memories and you want to feel good to be able to create beautiful memories.
Shoes can cause so much pain, in general. That's why it's really important to choose the perfect size and to feel comfortable wearing them.
If you are a woman that is not used to wearing heels, it may be a good advice for you to choose smaller heel because smaller heels tend to be more comfortable. It is usually easier to walk in smaller heels. If you really want high heels for your most important day – wedding day, you may need to practice walking in them before the special day.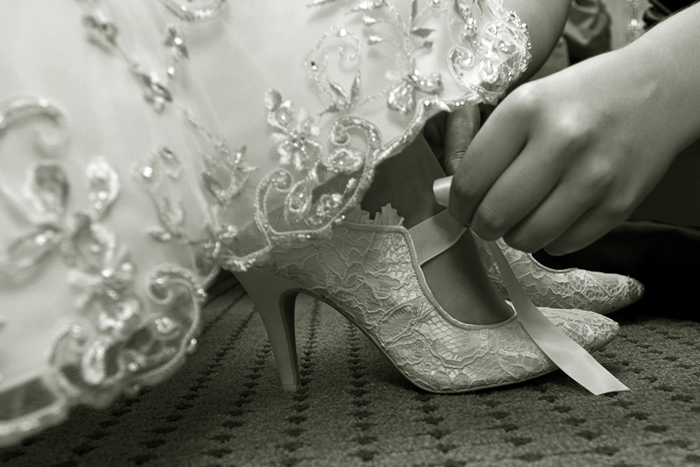 Bridal heels should match the wedding dress and they should look like a set together. Be careful in matching your heels with your wedding dress because there is a thin line between not something special and too much. You don't want to look in a way where somebody would look at you and think "That's too much". But, you still want to glow on that special day! So be sure to check out all of the options you have in front of you and try matching them with your wedding dress. Also, you may want to match the details on the shoes with your jewelry and your bouquet. It all looks better when it's put together!
And last, but not least – the cost of the shoes. Usually, shoes for weddings cost more than the regular ones, but you may want to buy the shoes that you'll be able to use and wear later on. If you usually wear heels, investing in bridal high heels may be a good choice when you will be wearing them after your wedding.
But, if you aren't usually the "high heels" type of a women or they just don't fit your style or your lifestyle (maybe on your work they aren't even allowed or you need something more comfortable through the day) – then, it would be the best not to invest that much money into heels.
You can still find gorgeous heels for affrodable prices and you will definitely look stunning in them. And the money you save can be invested into something else you will wear on everyday occasions. That is a smart way of planning out your shopping for the wedding day.
Since the story of Cinderella, heels have been women's favourite addings on every outfit. It's about the feeling they give to women who are wearing them but women often don't realize that they make the shoes look special, not the otherwise. So, shine bright from the inside out and everything will look just stunning on you!