If you're a lady who values classic beauty and sophistication, accessorizing with priceless jewelry can be the ideal approach to showcase your individual sense of style. The correct jewelry may enhance your appearance and offer a touch of luxury whether you're attending a formal event, heading to the office, or just going out with friends for a casual outing. We will look at eleven gorgeous jewelry items in this chosen list that you may wear at any time. Each piece has been meticulously chosen to help you shine with elegance and grace, from delicate duster necklaces to magnificent emerald bracelets.
Duster Necklace – Elaine B Jewelry
The stunning duster necklace from Elaine B Jewelry will attract attention on any occasion. Its alluring rainbow-tone design gives your neckline a pop of color and elegance. The necklace's lengthy length makes it drape gently, making it the ideal accessory for both formal and informal events. Layer it with other delicate necklaces for a trendy bohemian look, or wear it alone with a basic black garment to make the necklace the center point of your ensemble.
With its delicate olive leaf pattern, the Paloma Picasso Olive Leaf Cuff by Tiffany & Co. oozes sophistication and elegance. With its adaptable style, this wrist cuff made of sterling silver goes well with every ensemble. Wear it to add flair to your business wear or combine it with an evening gown for a little glitz. The cuff is an elegant and timeless addition to your jewelry collection because of its distinctive yet subtle design.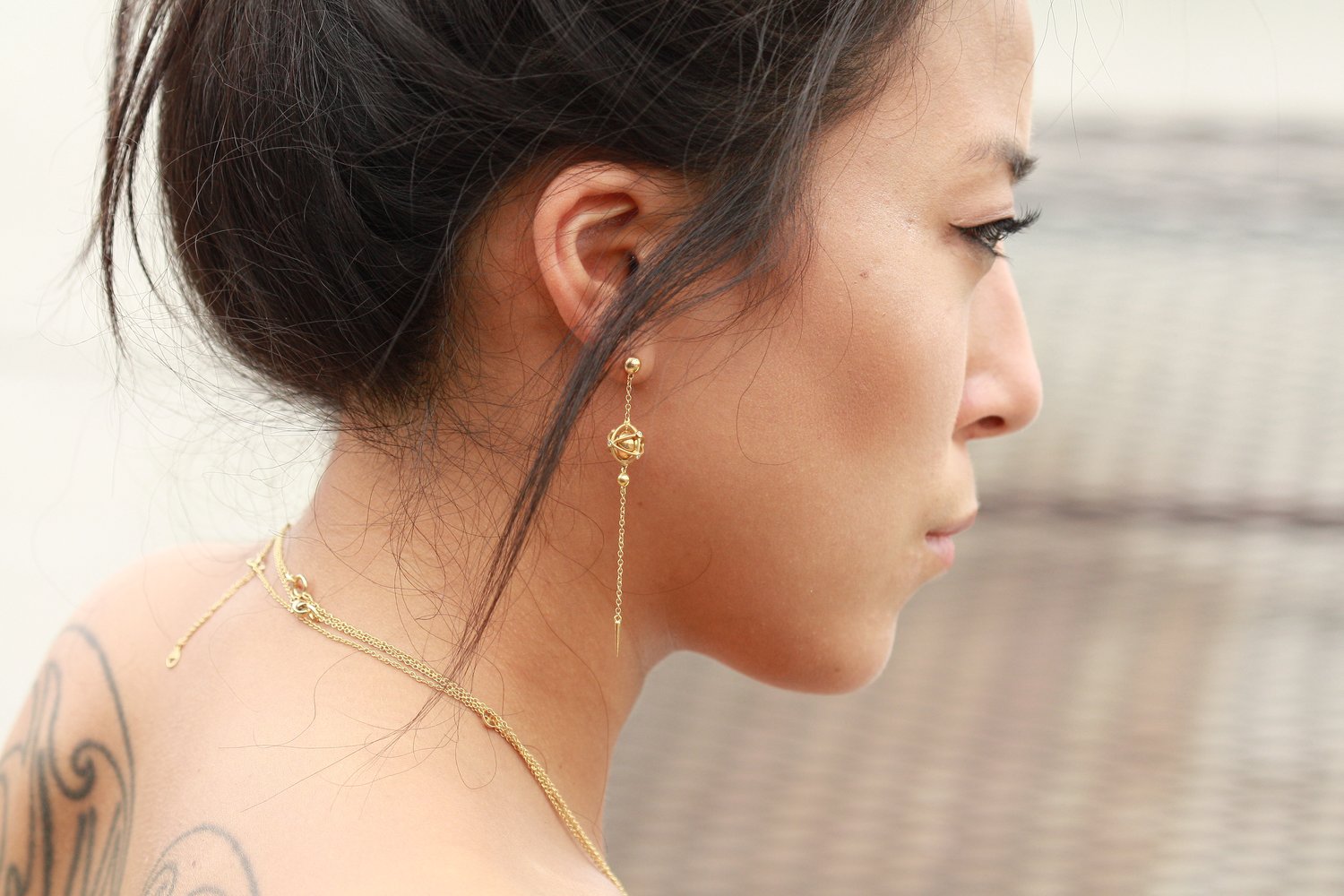 Rachel Weld's Caged Gold Orb Drop Earrings are a stunning statement piece that adds a touch of modern elegance to your ensemble. With their intricate and intriguing design, the caged gold orbs are the ideal accent for your cocktail dresses or evening gowns. While enhancing your overall appearance with a bright and elegant touch, their lightweight design guarantees comfort.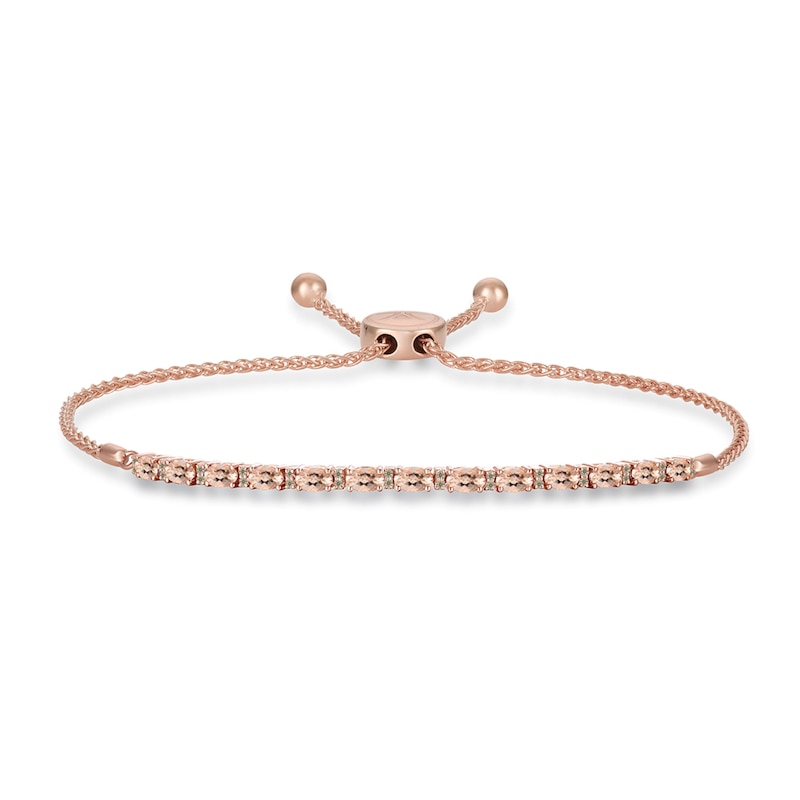 Le Vian's Natural Emerald Bolo Bracelet in 14K Vanilla Gold with Diamonds is a show-stopping accessory that oozes elegance and magnificence. The glittering diamonds elegantly contrast the vivid emeralds, producing a captivating contrast that draws the eye. When you want to leave a lasting impression or for important occasions, this gorgeous bracelet is ideal. Its bolo style, which is adjustable, guarantees a great fit and gives this exquisite item more versatility.
Vian Natural Emerald Bolo Bracelet 1/5 ct tw Diamonds 14K Vanilla Gold
A classic and elegant option is the Martin Flyer Flyer Fit Solitaire Engagement Ring with an oval-cut diamond. This classy ring can be layered with other bands for a unique design or worn alone as a showpiece. Its elegant and timeless style makes it appropriate for every setting, from informal get-togethers to formal events. This ring is the ideal choice for individuals who value subtle beauty and serves as a sign of lasting love.
Martin Flyer Engagement Ring Flyer Fit DERSH01XSOVQ-F-9X6OV
The Tintas Drop Blue Topaz Heart Drop Earrings from Lolo Vivian Jewelry offer a harmonious blend of mixed metals and gemstones. The gorgeous blue topaz hearts are subtly suspended on a rose gold chain, giving them a seductive and ethereal appearance. These earrings are ideal for adding a dash of color or a touch of elegance to your daily attire or an outfit for a special occasion. They are a must-have addition to your jewelry collection due to their versatility and appeal.
Topaz Earrings | Gold Silver Black Platinum Blue Topaz Drop Earrings
The Akoya Cultured Pearl Necklace and Earring Set in White Gold is another example of Mikimoto's world-famous fine pearls that will add elegance to your looks. The radiant pearls are the ideal choice for formal parties and special occasions since they emanate timeless elegance and beauty. This pearl set gives a touch of class to your outfit and guarantees that you stand out with sophisticated style whether you're attending a wedding or a gala.
Akoya Cultured Pearl 18 Inch Two-Piece Set in 18K White Gold
A striking and glam pair of earrings for a night out is BaubleBar's Deirdre Crystal Fringe Drop Earrings. These earrings are a show-stopping addition to any party or nighttime event because of the cascading crystals, which offer movement and dazzle. To highlight your graceful neck and shoulders and to let these earrings sparkle and finish your magnificent style, pair them with a sleek updo.
Deirdre Crystal Fringe Drop Earrings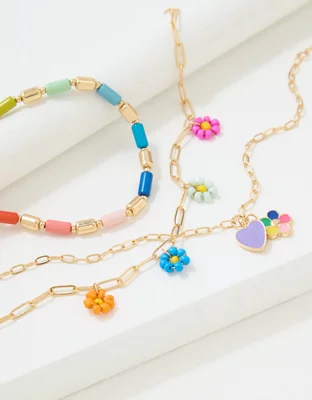 American Eagle's AEO Rainbow Flower Charm Bracelet 3-Pack adds a charming and whimsical addition to your regular wardrobe. The small flower charms on these adorable bracelets come in a variety of brilliant colors, making them ideal for adding a splash of excitement to your everyday ensembles. Wear them separately or stack them for a colorful and boho aesthetic. These bracelets are the ideal example of casual elegance and adaptability.
AEO Rainbow Flower Charm Bracelet 3-Pack
Silver-Tone Hair Clip
Your accessories collection will be enhanced by the ME Women's Polished Hair Clip in silver tone. Whether you're wearing your hair in a stylish bun or a straightforward half-up style, this hair clip instantly adds a bit of refinement to your haircut. You can easily upgrade your appearance with this multipurpose item thanks to its modern design and polished finish, which make it appropriate for both professional and informal settings.
&me Women's Polished Hair Clip – Silver Tone
Each piece of jewelry in this carefully curated selection, from dazzling duster necklaces to mesmerizing emerald bracelets and stones, has been carefully chosen to enhance your appearance for every occasion and go with your personal sense of style. Accept the charm and refinement of these wonderful accessories, and let them reflect your uniqueness and grace. These classy jewelry items will make you shine with timeless beauty and self-assurance whether you're attending a major event, heading to the office, or just enjoying a casual day out. Keep in mind that the secret to true elegance lies not merely in the clothes you wear, but also in the poise and grace with which you hold yourself. So, wear these accessories with assurance and let your inner brilliance show.