If there is something that we women really like to change, it's the nails, isn't it?
Currently on the market, there is a multitude of products in addition to nail models that you can be inspired by and become more stylish every day.
And in today's article, we are going to introduce you to the 5 best accent nail ideas to try right now.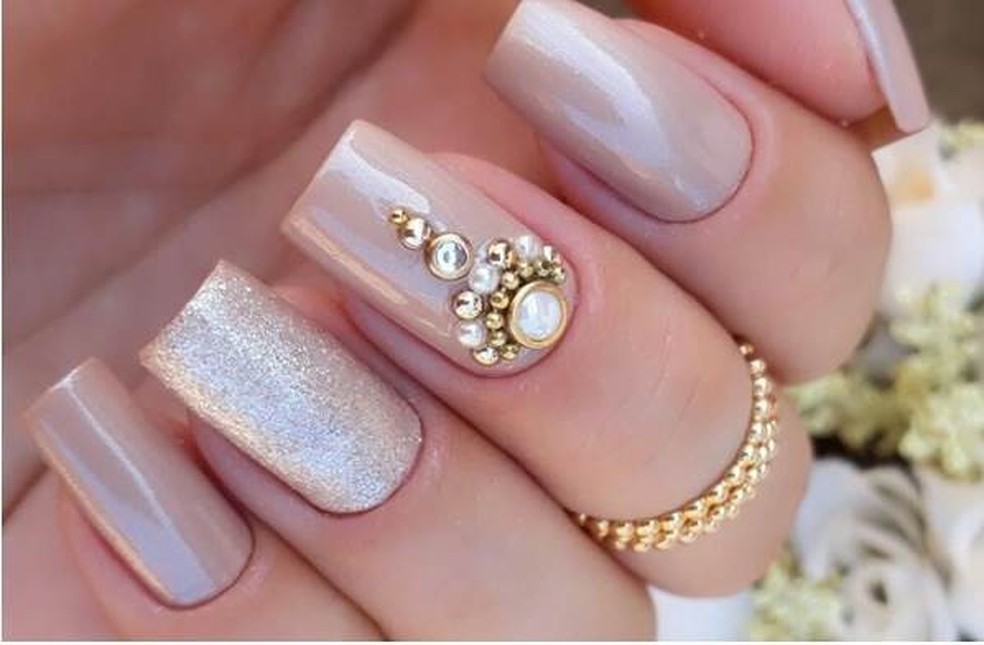 1-Nails decorated with jewels:
Practicality is the word of the moment when it comes to nails, right? And nails decorated with jewels are the most current trend of the moment, their decoration is basically done through nail jewels applied directly to them, presenting several options and also colors.
The options are diverse and you can choose between something more minimalist or more flashy according to your taste.
2-Nails with minimalist designs:
Nails decorated with minimalist designs are elegant and charming for any and every occasion, right?
They can be made with small details such as dots, polka dots, flowers, hearts, ladybugs. And this issue is independent of the size or shape of your nails.
3-Nails with colorful french nails:
The colored francesinha is a retelling of the classic francesinha, but it came to bring more color and fun to your nails.
Popularly known as Rainbow french, it brings a color to each nail, which can be traditional or metallic. The good thing about this style is that the nails can be longer or even shorter and look great like this!
4-Holographic nails:
Very famous nail polishes holographics have holographic fragments in their composition, as if they were small mirrors, which give the effect of 3D lighting. They are different from shimmering, which is made up of glitter particles.
Its effect may vary according to natural or artificial light.
5-Gel nails with solid and translucent tones:
For those who like to use gel nails and don't want to go too far, this is a good trend that can serve as inspiration for you. Try deep, moody colors like a brown, red, or cherry.
An option are also artificial nails molded directly onto the natural nail, created with UV/LED gel (which requires an Ultra Violet light cabin to cure the gel) or LED gel and which have the gel itself as an extension under an adhesive mold ( molded gel) or the tips with glue.
Its duration depends on your nail care and whether application and maintenance are done correctly.
Over time your natural nails grow and take the gel material with them. This new part of the nail remains without gel and then you must return to the aesthetic center to cover the nail again with gel and therefore maintenance is necessary.
Your care is through regular maintenance (every 15 or 20 days), avoiding constant contact with chemical products that can corrode the gel. When washing dishes, prefer to use gloves and to remove nail polish or decorations, use nail polish remover instead of acetone. Never use your nails as tools (eg to open jars), avoid impacts and also avoid pressing the material (eg forcing to press a button). Remember, these are delicate handcrafted nails molded one by one and require care. There are many cases of gel nails done on clients who have absolutely no care and go about their daily lives on a regular basis and keep the gel nails intact, however, it is always advisable to acquire special care to avoid damage.
It is possible to apply them at home, with the necessary materials you can make your own nails. The application of gel nails is a very simple technique but it has several little secrets like never letting the gel touch the cuticle otherwise it lifts, evenly file the gel so that in case of pressure, it doesn't crack at a weaker point than it was sanded for longer, the gel releases a layer of oil that, after curing in the cabin, must be removed with gel remover or alcohol 70 and several other little secrets that you only learn with practice. For your first contact with gel nails, do it on someone else or on a false nail to have complete control over the application on your hands.
When removing, never pull off the prosthetics, this will make you remove layers of your natural nail and weaken them. The manicurist will perform the removal leaving a thin, imperceptible layer of gel that will protect your nail until full growth. If you still want to remove your nails at home, the more traditional method is to file the gel down to a thin layer and then cover the nail with cotton and plenty of acetone. Cover the nail and cotton with aluminum foil and leave for 30 minutes. With this process, the gel nail should detach from the natural nail.
Another option is fiberglass nails: stretching is done from fiberglass threads attached to the nail with layers of gel specific for this technique. More resistant to acetone, it is possible to change the enamel with common removers.
Among its main advantages we have:
-They adapt: as long as natural nails are healthy, fiberglass adapts to any shape and size.
-Naturalness: as they are transparent, thin and light, the finish is very close to the effect of natural nails.
-Durability: with good maintenance, nails last an average of a month. The nail polish lasts up to 15 days.
Its disadvantages are;
-Application time: as it is a process with many steps, the application can last about 3 hours.
-It is not a treatment: if your natural nails are not usually resistant, they will remain so when the extension is removed.
-Can cause damage: the process of applying fiberglass nails involves chemicals and instruments that, if poorly operated, can damage natural nails and skin.
The advantages of fiberglass nails sound more convincing than the disadvantages. Even so, it is worth reinforcing caution, for an incredible result and without damage, the best option is to look for professionals.