Would you buy your wedding dress online? I know many people are scared to do it and maybe you are one of them, but give me a chance and I might change your mind. It's 2022, the future is now and it's buying something important as a wedding gown is not unsafe any more. The main thing to know is you should make research on a store you buy the main dress, you will need to read reviews, look for photos of how the item you want to order looks in a real-life, to read about a store's return and shipping policy, to make sure you are ordering a right size, as all stores use different measurement system, so look for a page with a size chart on the online store you chose to make an order. And this list of must-do can be going on and on, and that's all are a lot of work to do! I might admit I am like many people in a situation when I'm doing something important, something that must be perfect, I easily get nervous and forget a very important detail.
This post is a short guide to buying wedding dresses in online stores. I tried to write everything you need to know about it and I chose 5 stores that you can trust without fear of getting a bad quality purchase or getting the wrong size and not being able to return it and get a refund. You can return your order if something you didn't like about it in all the online shops that are on the list in this blog post. All details you may want to know about any certain shop of these 5 are a little bit above in this guide.
But, before, let's talk about why it's better to buy your dream dress at the store online over stores offline.
Reason number 1 is literally this way you will most likely find your dream dress you imagined yourself on your special day in which one you will feel like a princess… Or whatever you want to feel like. The internet has a bigger choice of wedding gowns and accessories even if you're living in one of the major cities, but what if you are living somewhere far away from the stores? In this case, buying it online would be the most comfortable way, if not the only way in some cases.
The second reason: buying online make save you a lot of money. In a usual boutique, you find a dress you like the most and you buy it because it's your favorite dress, so there is no way you will buy another one. But on the Internet, you may find a dress you love and then easily find other dress alternatives that are cheaper, or maybe you didn't like some details of the first dress/. This way you can find truly a dress that will be perfect for you.
The third reason is that before buying a dress you may read about other brides' experiences of wearing it. If quality is good, if it's comfortable to walk in, dance e.t.c.
The 4th reason. You will most likely need the help of a tailor anyway, no matter where you bought it, so the tailor could make a dress fit perfectly for you.
So let's learn about a few of the best stores for your perfect purchase!
BHLDN – a store where you can find dresses from quite famous designers to small business owners (not only does it feel good to support small businesses, but also you will be sure literally nobody has the same outfit as you). Especially if you mix your dress with some accessories and jewelry you can choose on their website too.
Also, they are plus-size friendly and you can see how dresses look on different bodies.
Their web store is super aesthetic, so even if you are not sure if you want to buy your wedding dress from this store, at least, check them. Their photos are absolutely wonderful and they may give you some inspiration.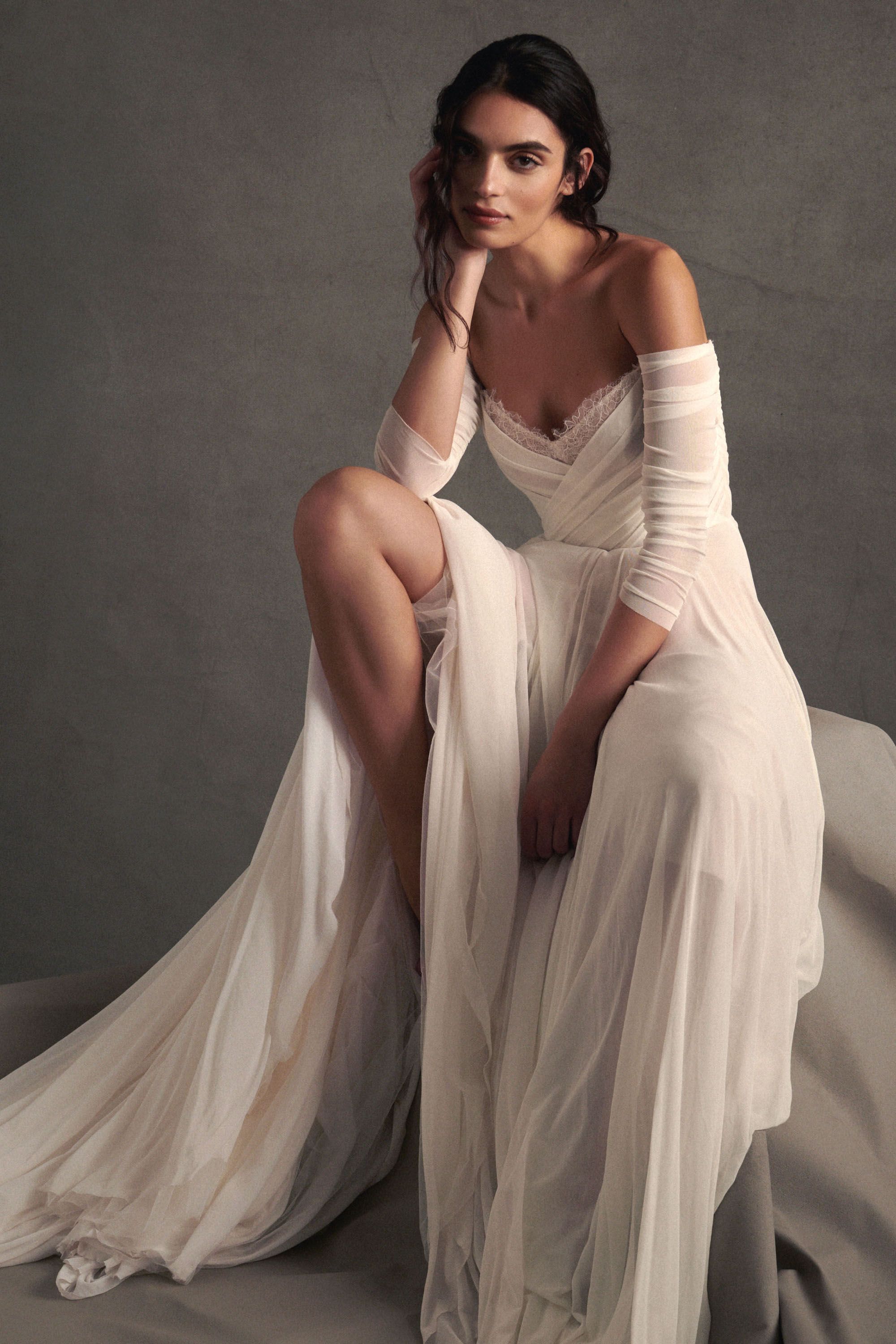 Asos. The store we all know about. But did you know on Assos you can buy not only clothes for every day or party, but you can find even a wedding dress there? Most of what I've seen, the store has a big choice of simple dresses. They are super modern too. But they're having a lot of more classic dresses too.
KYHA – the most expensive store on the list, although it has cheaper options too. The design of the store is extra aesthetic and elegant. It has dreamy vibes just as their wedding dress designs.
Vow'd has a big choice of different sizes and beautiful dresses designs.
There you can choose any 3 dresses to try for only $15 each and when you got them and chose the one you get 15% discount on it.
What a great deal?!
Outnet. The last one but not the least one. On Outnet you can find dresses from your favorite famous designers for the best prices ever.