Any outfit benefits from the timeless and adaptable femininity and playfulness that ruffled tops bring to it. The delicate frills and cascading layers of ruffled tops make them a go-to option for both dressier and more informal situations. Finding the ideal ruffled top that suits your body type might be difficult, though. Be at ease! In this article, we'll teach you how to wear ruffled tops and provide helpful advice on how to pick the best style for your body type. Be confident while you rock those ruffles by embracing your feminine side.
Apple-shaped Body: Emphasize the Waist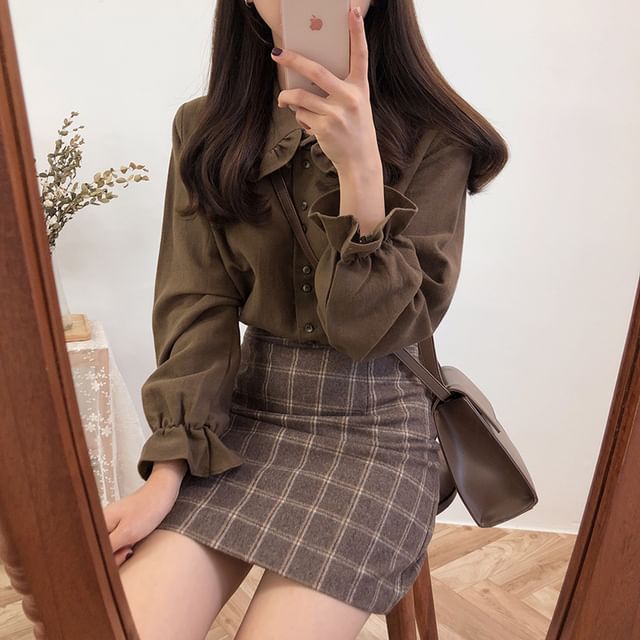 HW Studio – Long-Sleeve Ruffle Blouse / Plaid Mini Fitted Skirt
(Shop at https://www.yesstyle.com/)
Ruffled tops can assist give the appearance of a more defined waistline if you have an apple-shaped figure with a fuller abdomen. Choose ruffled tops with a fitted bodice or a waistband that cinches. This aids in detracting focus from the belly and flatteringly draws emphasis to your curves.
Avoid wearing ruffled tops with a lot of volume around the waist since they could add extra heft. To bring attention upward, pick tops with ruffle accents along the neckline or sleeves. To emphasize your waistline even more, wear your ruffled shirt with high-waisted bottoms like fitted pants or A-line skirts. Combining these elements results in a balanced and attractive silhouette.
The benefits of ruffled tops for women with apple-shaped bodies are numerous. By emphasizing the bust, minimizing any abdominal issues, and deflecting attention away from the waist, they produce a balanced silhouette. Ruffled tops give clothes depth and texture, offer a variety of styling possibilities, and ultimately increase confidence. In order to celebrate and highlight your curves in elegance, embrace the charm and silliness of ruffled tops.
Pear-shaped Body: Balance the Proportions
Ruffled tops might help you balance your upper and lower body if you have a pear-shaped body type. To attract attention upward, search for ruffled tops with accents around the neckline or shoulders. For pear-shaped figures, off-shoulder or one-shoulder ruffled tops are very attractive because they elongate the upper body and give the form a more symmetrical appearance.
(Shop at https://www2.hm.com/)
To avoid drawing attention to the lower portion, choose ruffled tops that are a little looser around the hips. Pair your ruffled top with slim-fitting bottoms, such as skinny jeans or fitted slacks, to balance the proportions. This combination gives you a more proportionate and attractive appearance by emphasizing your upper body and lengthening your legs.
Hourglass-shaped Body: Emphasize Your Curves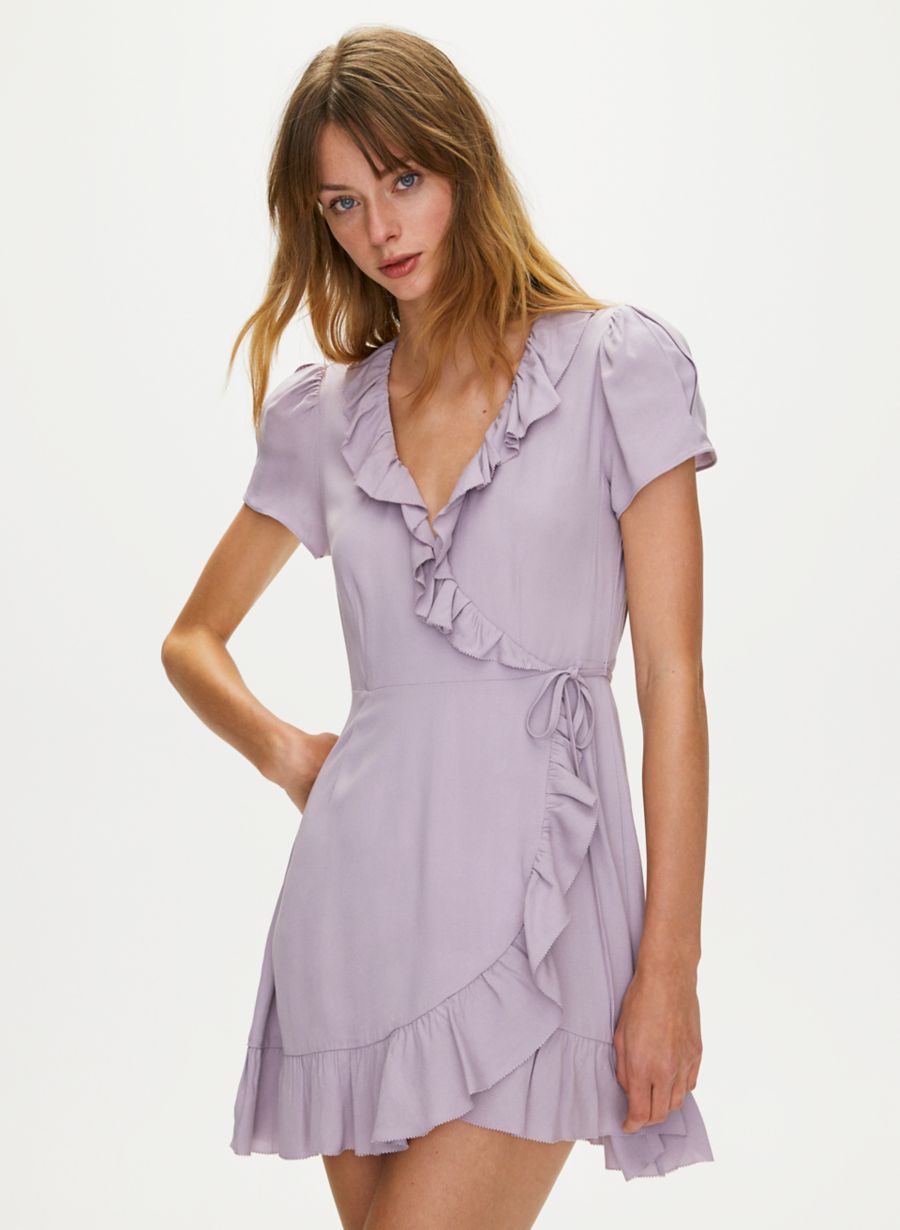 Ruffled tops can highlight your curves and complement your feminine look if you're gifted with an hourglass figure. To highlight your hourglass figure, choose ruffled tops that are fitting or have a defined waistline. Look for tops that embrace your curves in all the right places, such as wrap-style ruffled tops or tops with ruffle detailing down the neckline.
(Shop at https://www.aritzia.com/)
Ruffles should be moderately voluminous so as not to overpower your physique. Choose tops with delicate, tiny ruffle embellishments instead. To draw attention to your waist and create a balanced look, wear your ruffled top with high-waisted bottoms like pencil skirts or wide-leg pants. This combo brings out your curves and gives your ensemble a dash of elegance.
Rectangle-shaped Body: Create Curves
Ruffled tops can add curves to people with rectangle-shaped bodies and provide the appearance of a more defined waist. Look for tops with ruffles that have accents that accentuate the bust and hips. Pick tops with ruffles along the bustline or ruffled tops in the peplum style to give the appearance of a curvier silhouette.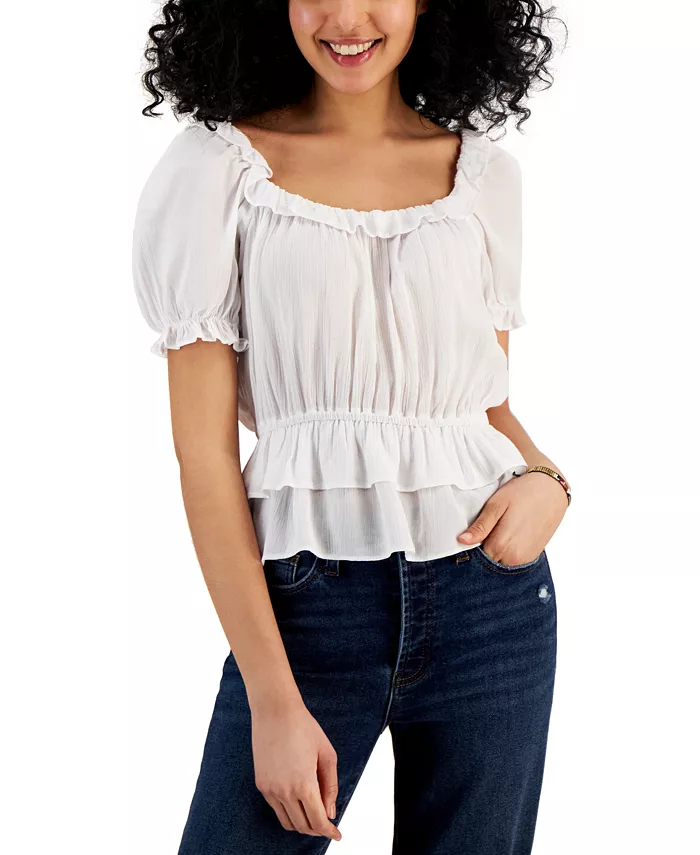 Juniors' Short-Sleeve Ruffle-Hem Peplum Top
(Shop at https://www.macys.com/)
To define your waist, choose ruffled tops with some structure or tailoring. Avoid wearing ruffled tops that are too boxy or loose since they may make your physique look undefined. Choose bottoms with dimensions, like flared skirts or slacks with pleats, to go with your ruffled top. This combination enhances curves and gives off a more balanced, feminine appearance.
When wearing ruffle tops with rectangular body shapes, think carefully about your accessories. To give the appearance of curves and a defined waistline, define your waist with a belt, layer with structured jackets, play around with statement belts or sashes, and pair with high-waisted pants. Use statement jewelry to add depth, and experiment with scarves or shawls to add softness and visual appeal. You can accentuate your rectangle body shape and firmly embrace your distinctive style by adorning ruffle tops in this way.
Petite Body: Opt for Delicate Ruffles
You can wear ruffled tops even if you have a small frame because they won't overwhelm you. Choose ruffled tops that don't overwhelm your frame and have smaller, more delicate ruffle accents. For a modest yet fashionable accent, look for tops with ruffles along the neckline, sleeves, or hemline.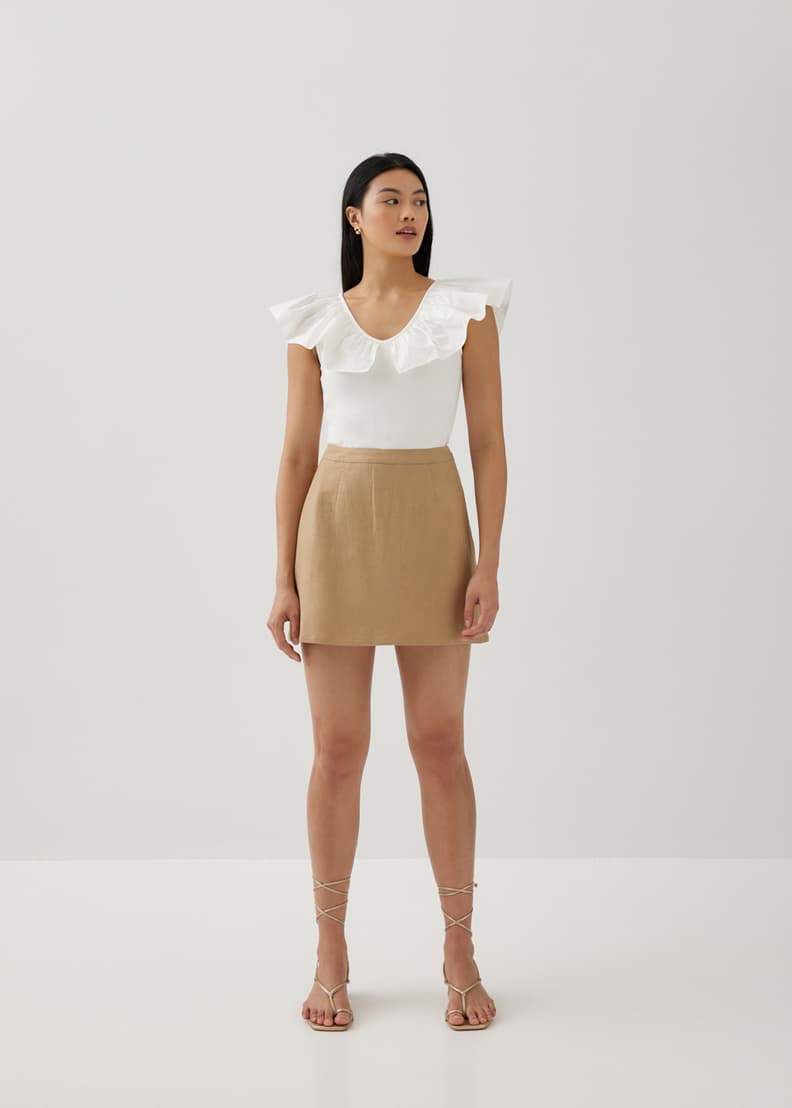 (Shop at https://www.lovebonito.com/)
Pick ruffled tops that fit your body type and are proportionate to it. Avoid clothes with excessive layers or huge ruffles because they could make you look smaller. Wear your ruffled top with long, lean bottoms like straight-leg jeans or high-waisted pants to stretch your legs. Together, they increase height and give off a feminine silhouette.
Petite women can rock ruffled tops by choosing proportionate and vertical ruffles, opting for fitted silhouettes, pairing with high-waisted bottoms, going for monochromatic outfits, and considering layering. These suggestions aid in creating an elongating and attractive impact, enabling small ladies to confidently embrace their individual sty
Ruffled tops are a feminine wardrobe essential that can be dressed up or down to suit every body type. You may boldly embrace ruffles and put together fashionable ensembles that highlight your greatest features by taking into account your body form and applying these guidelines. There is the ideal ruffled top for you, whether you want to emphasize your curves, define your waistline, balance proportions, or give your form more depth. Therefore, try on various styles, cuts, and ruffle accents to select the ruffled top that best suits your feminine and amazing personality. Embrace your body type, the frills, and your individual sense of style!