Finding professional attire that is stylish and flattering for plus-size ladies can be difficult. However, with a few hints and recommendations, you may put together a polished appearance that will increase your confidence and make you feel at ease at work. Here are some pointers for plus-size ladies who want to dress stylishly and elegantly for the workplace.
Choose Clothes That Fit Properly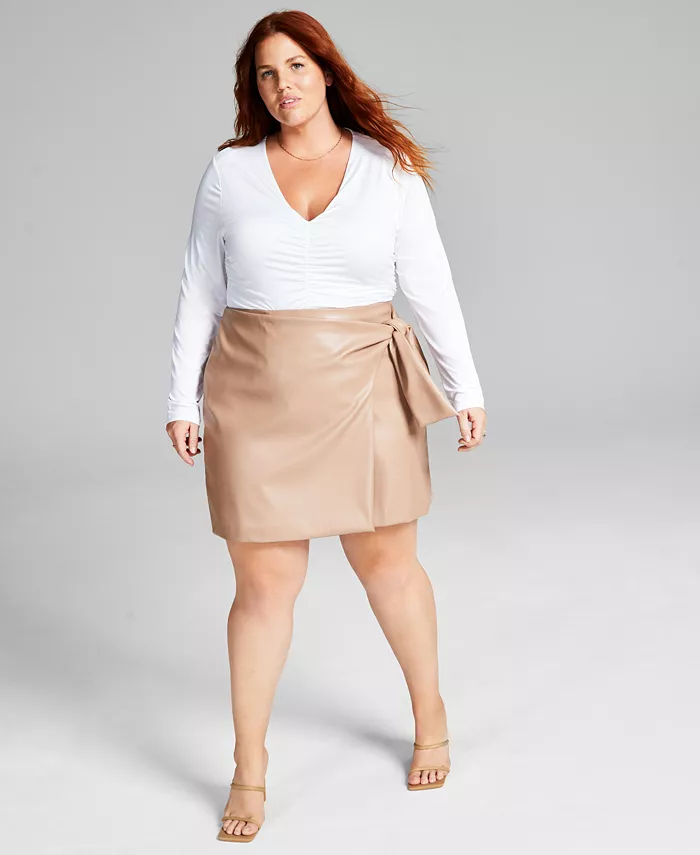 Making ensuring they fit properly is one of the most crucial considerations when purchasing corporate attire. Avoid wearing clothing that is overly tight or loose because it will make you look sluggish or unprofessional. Instead, choose well-fitting clothing that flatteringly highlights your curves.
AND NOW THIS
Trendy Plus Size Faux-Leather Skirt
Invest in Quality Fabrics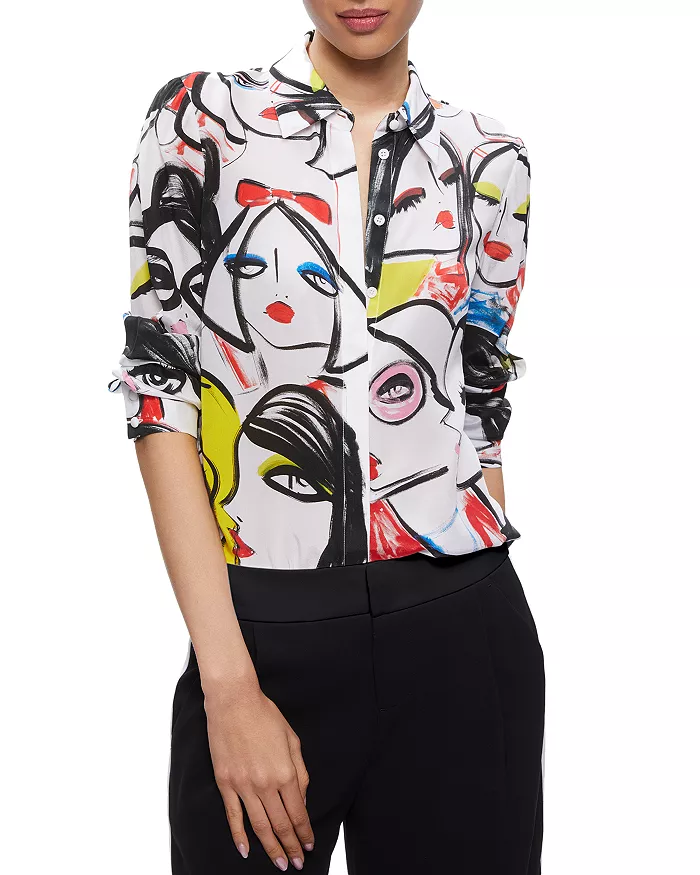 Investing in high-quality materials will increase your professional appearance and lengthen your lifespan. Look for textiles like cotton, silk, and linen that are easy to wear and have good drapes.
Alice and Olivia
Accessorize Wisely
Choosing accessories carefully is crucial since they have the power to create or destroy an appearance. A belt can draw attention to your waist and give you a more put-together appearance, while a bold necklace or a set of earrings can bring a splash of color to an understated outfit.
To look professional, ensure that your accessories look cohesive by sticking with one theme or hardware. If your necklace is gold, you may opt on using the same for your bracelet and earrings.
FRAME BUCKLE THIN BELT IN CROCODILE-EMBOSSED LEATHER
Experiment with Layers
A stylish and appealing look can be achieved by layering. Consider wearing a cardigan with a skirt or layering a blazer over a blouse. This will not only give your outfit more depth and dimension, but it will also give you a more refined appearance.
You can also add a scarf, especially if it`s cold or windy. Layering can help you to look more fashionable as long as it`s done correctly, and not too much.
Add Some Color
Your business attire would look more stylish and appealing if you add some color to it. Don't be afraid to experiment with strong hues or patterns, but be sure to counterbalance them with soft hues for a more refined appearance.
Plus Size Textured Babydoll Mini Dress
Don't Forget About Tailoring
Each body is different which is why tailoring your clothes to accentuate your best curves and to fit your body will make a lot of difference in how you look with your clothes. Some plus-size clothing might be bigger in some body parts so having well-fitted clothing can make you look well-put together and professional.
A patterned dress, like this patterned Flip-Flop Dress, has various advantages for plus-size ladies. The dress is comfortable to wear, has a flattering A-line silhouette, hides flaws, is versatile and can be dressed up or down, and is fashionable with its detailed black and white print. The dress may make plus-size women feel fashionable and confident for a variety of occasions.
STYLE & CO
Plus Size Sleeveless Printed Flip Flop Dress, Created for Macy's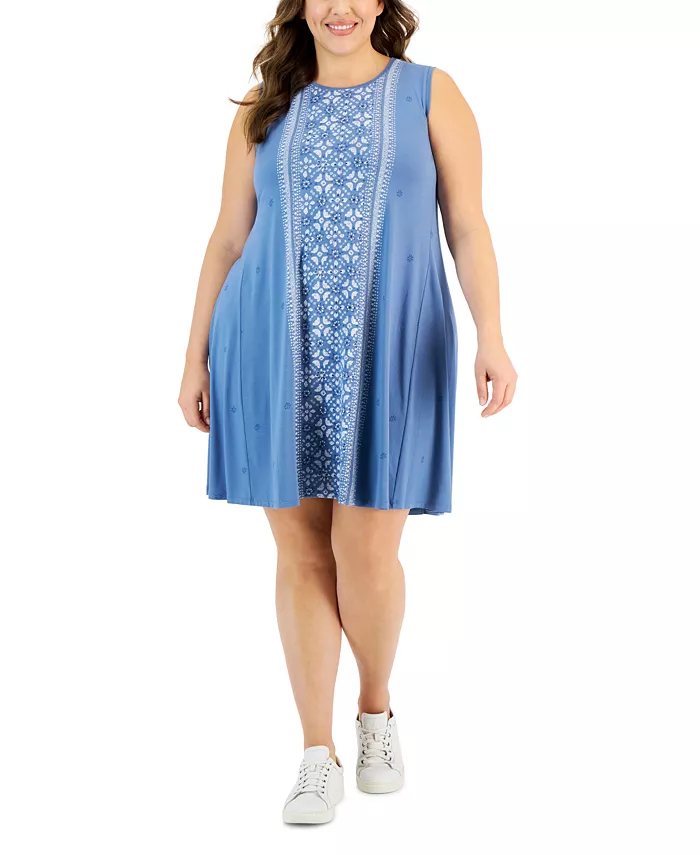 Puff-Sleeves for a Smart Casual Look
This Trendy Plus Size Seersucker Puff Sleeve Dress from Macy's is a stylish option. The dress features a versatile design, attractive seersucker fabric, and puff sleeves that provide a fashionable touch, a comfortable fit, and a polished appearance. This dress may make plus-size women feel fashionable and confident for a variety of office occasions.
AND NOW THIS
Trendy Plus Size Seersucker Puff-Sleeve Dress
Maxi Dress for Spring and Summer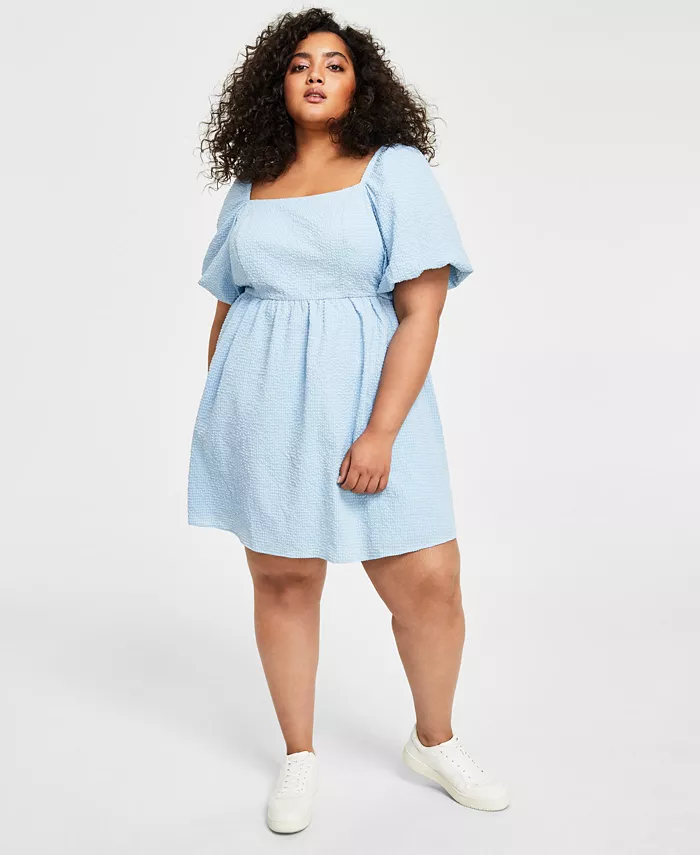 Due to its light and airy fabric, adaptable design, modest and business-like appearance, flattering fit, and distinctive print, the Plus Size Maxi Penelope dress from City Chic Online makes a fantastic option for office wear during the spring and summer. The outfit is attractive, casual, and suited for a variety of work settings. The modest, exquisite design, flowy skirt, and flattering silhouette of the dress will give plus-size ladies a sense of style and self-assurance.
CITY CHIC
By dressing in clothes that fit properly, spending money on high-quality fabrics, accessorizing carefully, experimenting with layering, adding color, and paying attention to tailoring, plus-size women can present a polished and fashionable image at work. By keeping these suggestions in mind, you can feel confident and at ease in your fashionable smart casual attire and be prepared to handle any professional challenge with style and grace.