Fashionable and stylish women everywhere often have their favorite wardrobe staples that are classic and worn often. In order to change these wardrobe staples or give them an updated look, accessories come into play. For example, if you have a busy day and no time to head home to change into another outfit for dinner, you can use fashion accessories to transform your outfit for the evening. Let's say if you are wearing a black dress with a shoulder bag during the day, you can transition this look by adding a scarf around the neck or put on a statement necklace and pair the outfit with high heels and a clutch. With just a few items, you can transform a simple dress into a dressy one.
Whether you want to upgrade a dull outfit or add a fresh new twist to your ensemble, here is the gist on how to go all about it. Read on to find out the 6 essential accessories that women need.
Statement Necklace
Statement necklace is a must have in every woman's collection. Whenever you need to spice up an outfit, you can just reach out for a statement necklace. This jewelry staple adds a subtle hint of style. A statement necklace tends to draw the eye upward towards your chest instead of your midsection if you want to look thinner.
Face mask chain
This latest essential accessory on our radar is more practical than you think. Since we have to wear a mask every time when we are out, the face mask chains are a good idea for those who are prone to misplacing our masks or do not want to put it down somewhere where they could get contaminated when we are having our meals. Just like the sunglasses chain, this face mask chain lets us hang our mask around our neck stylishly.
Scarf
If you want to elevate any look with little to no effort, a fabulous scarf can do just that. A scarf is an accessory that has stood the tests of time. Timeless, chic, and versatile, a scarf can breathe life into any boring outfit. It can be styled in many ways such as wearing it as a tie, a head wrap, around the neck or even tie it around your handbag.
Belt
Belts are very versatile as you can style them in many ways. A belt can be worn over a dress to add contrast to the outfit. Sport it over an oversized blazer or cardigan to add shape to your physique. This essential accessory comes in different buckles and belt widths to switch up your look. For the fashion-forward women, belt bags or fanny packs are the hot new item that is both practical and stylish.
A Pair of Hoop Earrings
Hoop earrings are pretty attractive piece of jewelry and go well with nearly every type of style. Do you know that hoop earrings are not one-size-fits-all? Look for one that complement your face shape and don't be afraid to experiment with different hoops shapes like tear-drop or oval. They go well with nearly every type of outfit. Whether you choose the minimalist gold hoop earrings or diamond studded design, hoops can be worn with a T-shirt and a ballgown.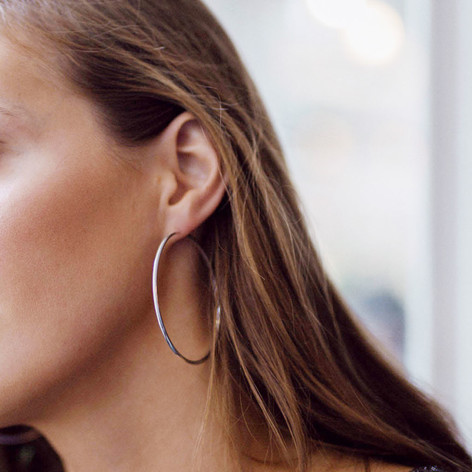 Hat
If you are having a bad hair day or just want to add a stylish vibe to your outfit, a hat is a great accessory to top off that look. Not only would it protect you from the UV rays, the hat can also keep your head warm when the temperature dips. For fashionable women, the hat exudes a confident aura.
Styles and tastes vary but there will always be those stylish essentials that should never be left out of your wardrobe.